Paint Protection Film
Add extra protection against stone chips and improve the resale value of your vehicle with our Xpel Paint Protection Film. Available in several kits and combinations, paint protection film has gained much popularity in recent years and is a more effective option than the traditional bug defelctors of the past. For more information and for pricing and availabliity for your vehicle, please contact your Luxe Auto Lounge representative.
Performance. Durability. Excellence.
PROTECT YOUR INVESTMENT WITH THE PIONEERS IN AUTOMOBILE PROTECTION
Few brands are 100% committed to protecting your automobile like we are. We focus all of our resources, time, human capital, and research in developing some of the most innovative automobile protection products in the market. We hold the highest quality standards throughout our entire production process, from design to distribution. All of this has made XPEL one of the most recognized names in the automobile protection industry.
WHAT IS PAINT PROTECTION FILM?
Paint protection films are clear or colored polyurethane films that are applied to vehicles to protect them from scratches, dents, or swirls caused by road debris, rocks, bug droppings, and other environmental elements.
THE XPEL DIFFERENCE
Our entire line of films is hand drawn, measured, and tested manually. Our ULTIMATE line uses special elastomeric polymer technology that allows the film to HEAL ITSELF from scratches or swirl marks in a matter of minutes. We developed our Design Access Program (DAP) Software to provide the most customizable and precise coverage in the industry. This allows our distributors to offer products that fit the needs of their customers while eliminating unnecessary waste. All of our workmanship is backed by our extensive warranties.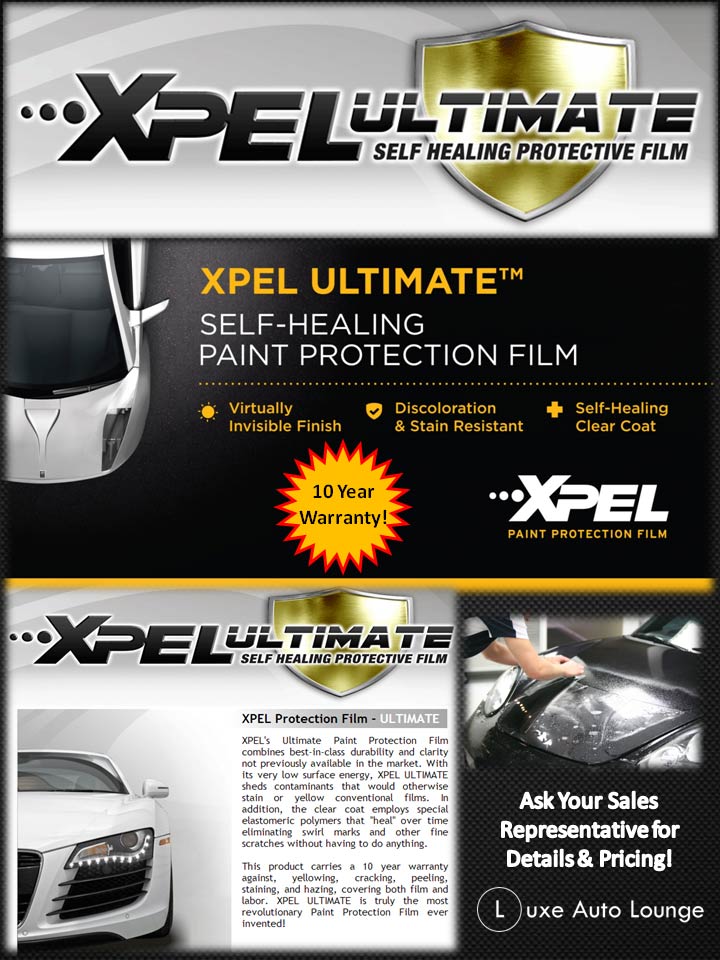 Conventional paint protection films can show scars and yellowing after a single year of use—especially in the real world, where most of us drive every day.
XPEL ULTIMATE isn't a conventional paint protection film.
Constructed from a combination of advanced elastomeric polymers, XPEL ULTIMATE's special clear coat not only prevents the film from discoloring due to contamination and ultra-violet radiation, but also heals itself from swirl marks and light scratches that can occur through ordinary washing and drying or daily driving.
Contaminants like bug splatter, bird droppings, sap and road tar wipe off XPEL ULTIMATE's super-slick surface with a cloth, while scuffs and light scratches in the surface of the film disappear within minutes in the heat of the sun or the warmth of your garage—leaving your car pristine and the protective film like new.
And this level of protection comes without compromise. The mirror smooth finish of XPEL ULTIMATE ensures that no unwanted texture, commonly referred to as "orange-peel," is added to the appearance of your car, leaving the protected surface indistinguishable from the factory paint. Professional installation by one of our network of factory trained installers ensures exact alignment around surface features such as air inlets, parking sensors, headlamp washers and other design elements, while the film along the perimeter of each panel is wrapped around the edges for a truly invisible barrier against the hazards awaiting you on the road.
Even the film's adhesive is superior. The enhanced workability of XPEL's adhesive allows the film to be contoured around the most complex surfaces without distortion—which means you show off a perfect finish, not seams, wrinkles, and ripples. XPEL ULTIMATE also comes with a full 10-year warranty against yellowing, discoloration, peeling, cracking and hazing. If it fails, we'll replace it—labor included.
You drive one of the finest cars in the world. Protect it with finest paint protection film available on the market.

Request a Quote
* required