Protect the resale value of your vehicle, and ensure your vehicle is fully protected from nature's elements with an application of Rust Check.
Having been in business since 1973, Rust Check has become well-known as a company that provides premier products and chemicals, specially-formulated to prevent the formation of rust on all types of vehicles. Whether your vehicle is brand new or used, an annual application of Rust Check is your best defense for maintaining the structural integrity of your vehicle, and ensuring continued protection against rust.
In addition, vehicles that are treated with an annual application of Rust Check may also qualify for an unlimited mileage, unlimited ownership, lifetime warranty against rust and perforation! See your Luxe Auto Lounge representative for further details.
Luxe Auto Lounge also carries a wide variety of Rust Check consumer products including: Rust Check inhibitor spray and Rust Check coat and protect for use around the home, cottage, and just about anywhere you want superior protection against rust!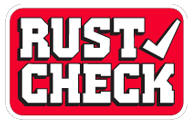 Pricing for Premium Rust Check 2-Step Applications
Car - $139.95
Van - $154.95
Small SUV - $154.95
Small Truck - $154.95
Large SUV - $164.95
Large Truck (Reg. Cab) - $159.95
Large Truck (Ext. Cab) - $169.95
Large Truck (Crew Cab) - $179.95
Pricing does not include HST. An additional $25+HST charge will apply to vehicles with underbody shields which must be removed and then re-installed following the application of Rust Check on the underside of the vehicle. Removing these underbody shields enables us to ensure that the Rust Check rust protection is thoroughly and properly applied to your vehicle's underside.
In addition to the 2-step Rust Check application, your vehicle will also receive weatherstrip treatment prior to the application, and a hand wash after the application.
Book an Appointment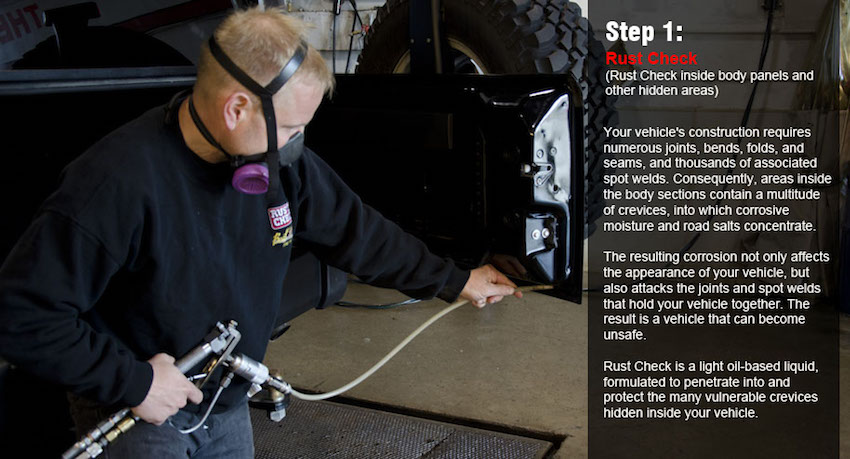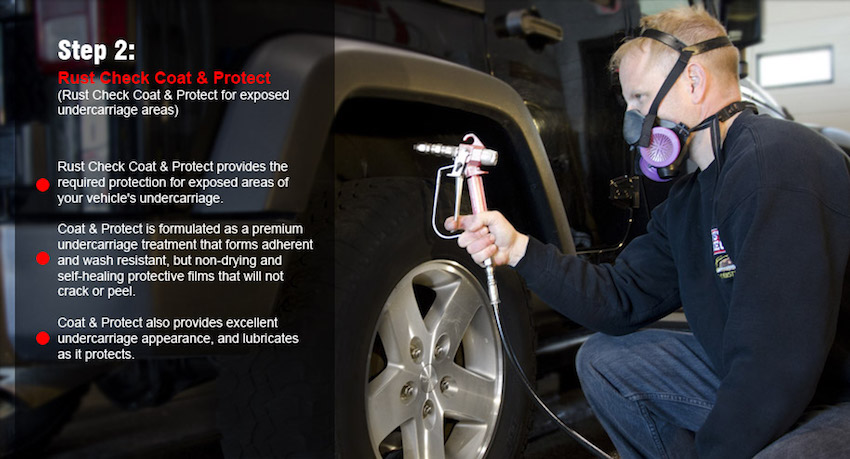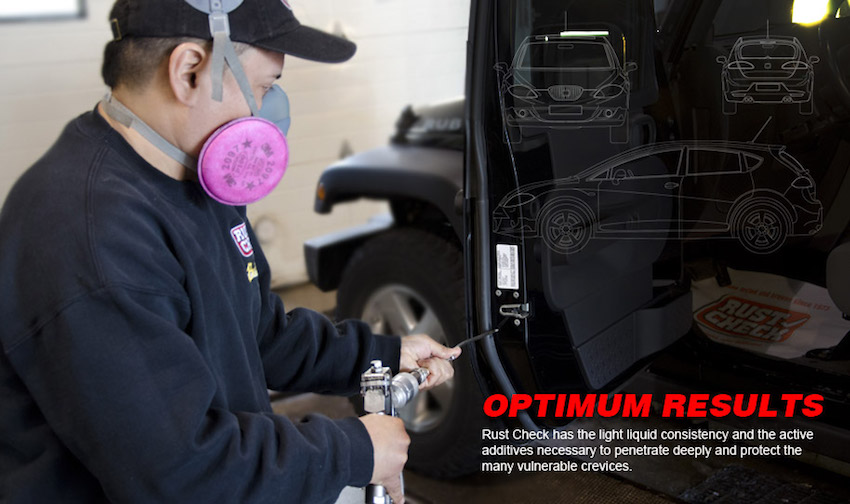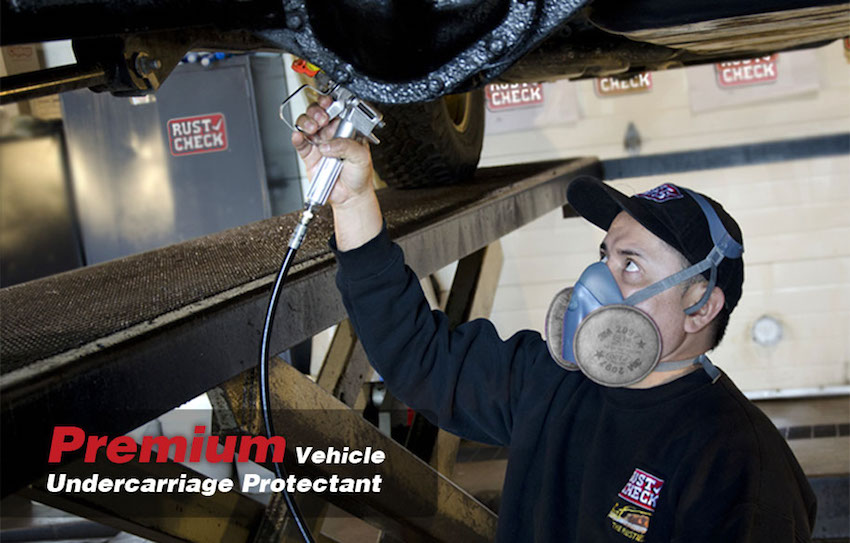 Further information on the Rust Check product, and what is involved in an application, can be found in the videos below:
Frequently Asked Questions
Does Rust Check Void Any New Car Factory Warranties?
NO. Rust Check is an aftermarket product, but it will not void any factory warranties issued by the manufacturer
How Long Does A Rust Check Application Take?
A typical application takes approximately 1 Hour
Rust Check is a premier automobile body panel protectant that has been used successfully since 1973. It is a light liquid product that is applied inside body sections as a pressurized spray.
Crevice areas hidden inside body sections, such as joints, folds, seams and spot welds therein, are the places where corrosion starts and spreads from. Rust Check has the light liquid consistency and the active additives necessary to penetrate deep into and protect the many vulnerable crevices found in today's vehicles.
Rust Check protects metals by displacing moisture and treating the surfaces with highly effective corrosion inhibitors. The corrosion inhibitors form an absorbed (bonded) layer on the metal surfaces. This microscopic layer acts like a series of tiny umbrellas, shielding the surface from water molecules. Just as a car battery will not work without its electrolyte, metal corrosion will not occur if moisture does not contact the metal.
Rust Check offers lifetime, annually renewable warranties to all vehicles less than one model year and to qualified vehicles up to three model years old.
This is not a money-back warranty – if a vehicle rusts from the inside out, we will pay for the repairs in accordance with the Warranty Certificate.
The warranty is transferable, and has no mileage restrictions.
NOTE: The warranty is annually renewed when your vehicle is "Rust Checked" at any of over 250 Rust Check locations.
Can Rust Check Be Applied To Vehicles Of All Ages?
Sealants provide a barrier between the metal and the environment, restricting contact of water and oxygen with the metal. In order to be effective, the sealant coating must remain intact. Consequently, sealant coating rely on good adhesion to the surface onto which they are applied.
Accordingly, sealants are best applied to new metals or freshly and thoroughly cleaned and dried metals. If applied to corroded, dirty or wet surfaces, they may not adhere properly to the surface, resulting in a non-intact, unprotective coating. It is particularly difficult to thoroughly clean and dry out the critical crevices and inner body panels areas.
In contrast, Rust Check remains fluid and very mobile and can fill in pores and other voids found in deposits of rust or other corrosion products. Rust Check also provides good penetration into rusted crevices. In cases where crevices are already rusting, Rust Check's deep penetration by capillary action is of even greater importance. The active additives in Rust Check work on a microscopic scale to displace water from metal surfaces and then keep the water from re-contacting the metal.
Rust Check Coat & Protect can adhere to and protect lightly rusted surfaces. It also contains a very high percentage of active additives to "dry" the metal surfaces and keep them dry. Rust Check Coat & Protect also has considerable acid neutralizing capability.
Although Rust Check and Rust Check Coat & Protect will not reverse rusting that has already occurred, they will slow and control its spread.